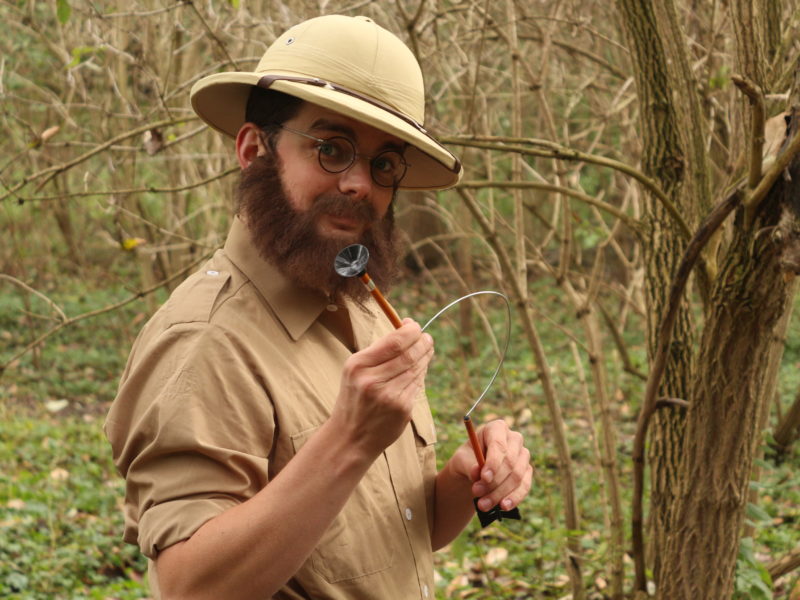 A Strange Film From an Even Stranger Land
Byhleguhre, River of Darkness
A lush, primeval forest. Uncharted territory. In its midst, a stream flows languidly, fallen and rotting trees lining its banks. A small folding canoe appears from behind a bend, a bearded scientist with a pith helmet paddling the boat upstream. He is on a mission to investigate the whereabouts of a woman who had disappeared here months ago. What will he find at the end of his journey? Or what will find him?
Is this a scene being shot for a classical adventure movie? Rather not, as there is no crew around. There's just this lonely figure in a boat and a second person on shore, standing behind a softly whirring Super 8 camera.
With our films, we try to capture larger-than-life stories on the smallest available film format and with the smallest possible budget. We want to find out: How much can be stripped away from a story told on film while still maintaining a suspension of disbelief?
Our on-set cast and crew usually consists of only three people, a circumstance that somehow dictates that solitude is a recurring theme in our stories. Previously, we took inspiration from Soviet-era science-fiction films, such as Andrei Tarkovsky's "Stalker", and shot the black-and-white short "Veterok".
FILMING IN UNEXPLORED LANDS
This time, we wanted to pay homage to classic adventure films set in foreign and unexplored lands, so we decided to shoot in colour, using Kodak's professional negative stock. In October 2016 we set out to the "Spreewald", a forest area criss-crossed by a river and innumerable smaller, man-made channels. Conveniently located just one hour south of Berlin, we set out to this make-believe jungle with a box of film cartridges and a trunk filled with lots of props and a little bit of equipment. We pursue Super 8 filmmaking in our spare-time, so we had to resort to the weekends for shooting. But boldly ignoring three golden rules of efficient filmmaking (no shots on water, no animals, no children), it quickly became clear that during these two days, we would only film the finale: It required many different set-ups, as well as special make-up, practical effects, and handling a bunch of maggots. We would have to tackle the opening in a second shoot.
Finding the right filming location involved a combination of analysing aerial photographs of the region (courtesy of a well-known web search service) and good-natured trespassing. Thankfully, a friendly lady refrained from releasing her hound on us when we approached her on her own land, and even allowed us to film in a little spot that combined everything we needed: dead water, old trees, and sufficiently dense shrubbery to hide a nearby field from view. Trying to save money, we stayed at a youth hostel not far from the filming location, but we blew the savings immediately, as only the cafeteria of a nearby spa had opening hours that would allow us to get some food at the end of the day.
TECHNICAL DETAILS
Just as we did on our last picture, we shot with an Elmo Super 110, a reliable silent camera with remarkable image quality and excellent handling. We used an external light meter, though, as this camera cannot correctly detect the speed of our film stock, KODAK Vision3 500T. Such a fast film is really not a bad idea if you decide to shoot on drizzly October days under a lot of foliage. As we would later see on the positive print, both colour and grain of the stock gave our film exactly the look that we had been hoping for.
During filming, we greatly appreciated the ability to shoot on private grounds. Tropical adventure films require costumes and props that easily appear out of place in autumnal Central Europe. Passers-by might thus be provoked to approach the film team, or alternatively, make a quick call to the local authorities. So we were happy to have none of that during our shoot, which was intense enough without this kind of distraction.
After our first production weekend, we had the second half of the film in the can and wrapped up for the moment. DP Andreas Kersten and actor Florian Rau would return to the forest one week later to shoot the long traveling scenes that open the film. Having our protagonist make his way through the jungle by boat allowed us to include several tracking shots on water. As we will probably never be able to afford a dolly track, shooting from a rented canoe is as good as it gets, and we made good use of this opportunity. There was one downside, though: As I couldn't join them, Andreas had nobody to assist him in the canoe. Thus, he first had to bring the camera boat to speed, then throw away the paddle and start filming Florian (playing scientist-adventurer Choke Nansen) in the folding canoe, only to recover the paddle afterwards for the next take.
FIRST LOOK
We got our first look at the negative material the following February. We were quite happy in general, but still felt that we needed a few pick-up shots to make some scenes work better. Of course, this was nothing that could be remedied during winter or even spring. We waited patiently for summer to arrive and for the forests to look appropriately lush again to shoot the remaining scenes. Meanwhile, the date of the Weiterstadt film festival was approaching quickly. This was the place where we wanted to premiere our work. It is one of the few places in Germany where Super 8 productions are projected not digitally, but from an actual film reel.
SOUND DESIGN
But before we could think about showing "Byhleguhre, Fluß der Finsternis" (Byhleguhre, River of Darkness) to anyone, we needed to add sound to our picture. We teamed up again with Fabian Koppri, the composer and sound designer who had already worked with us on our previous film. On "Veterok", he had merged sound effects and music seamlessly into one soundscape. This time, our film had a much more traditional approach, for which he wrote several compositions. They stood side-by-side with his sound effects, which turned a waterlogged European forest into an exotic jungle. The premiere date drawing near, we didn't leave Fabian much time, but he came up with beautiful sound and music. While Fabian was busy composing, Florian cut the negative following the digital edit and sent it off to Andec, where they created a positive print.
Synchronising sound to picture was the final challenge. A few sound effects near the film's end had to be exact to the split second, so Florian came to hate the running variations of the projector that he used to record the edited sound on the reel's magnetic track. But before the copy had collected any scratches, the soundtrack fit all the way to the end and the reel was good to go. By now, it was the festival's opening day.
But in the end, it all paid off: The audience liked our weird little story enough to vote for it, and – befitting for a film that is set in a forest – awarded the revered Film Stag of Weiterstadt to us. We submitted "Byhleguhre" to a few other festivals, but at the same time we're wrecking our brains already: Which genre will be next?