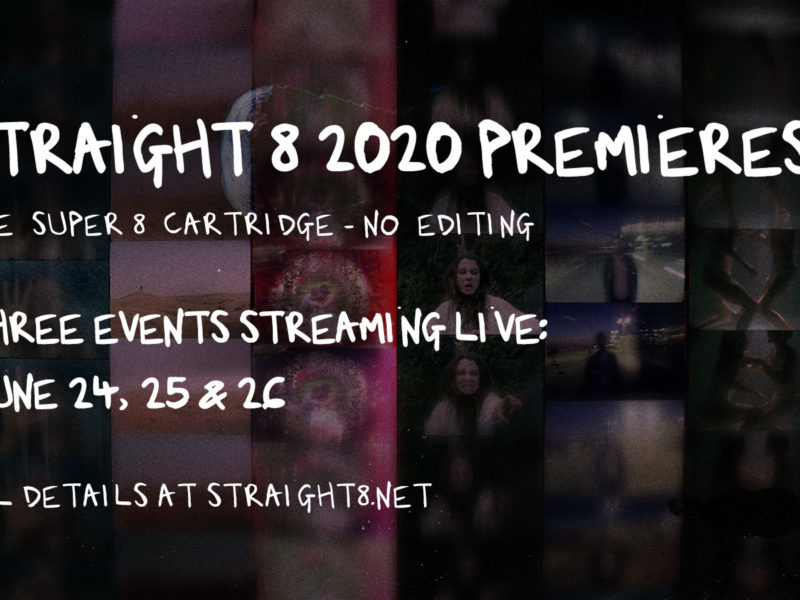 straight8 live on June 24
straight 8 – the global Super 8 filmmaking competition – announces winners and opts to make its 15th Cannes Film Festival Premiere available for free, live on June 24.
Since 1999, straight 8, the renowned super 8 competition, has challenged filmmakers to create three-minute films on one roll of super 8mm film with only in-camera editing. Today, they announce their eight 2020 winners, as selected by a panel including Academy-Award winning Director Asif Kapadia ( Senna, Amy, Diego Maradona ) and Academy-Award nominated Director of Photography Robbie Ryan ( American Honey, The Favourite, Marriage Story) .
The 8 films would have been unveiled at straight 8's 15th annual Cannes Film Festival Premiere in May. Now, for the first time in over a decade, the premiere of the eight winning films will be available for the general public to watch live via a free global stream at www.straight8.net on June 24th, at 8pm BST. As always, even the films' creators won't have seen their work beforehand.
Over 200 people entered this year's competition from 26 countries. The submission deadline was before most countries went into lockdown, meaning that these unseen films are something of a creative time capsule: made in relative freedom, before Covid-19 took hold.
The 45 minute show will showcase the 8 winning films and is packed with bonus content, including commentary from the judges and special guests, plus behind-the-scenes footage and interviews from the filmmakers. Each film's maximum length is 3 minutes 20 seconds, dictated by the 50 feet / 15 metres length of celluloid film in a Super 8 cartridge. Each year there are eight winners and, with no creative theme set, the premiere is always a highly varied and entertaining show.
The straight 8 2020 best 8 selection is as follows:
●  " Crumbs " (stop-frame animation) by Robot Chocolate / Gabriela Plačková & Robert Hloz. Prague, Czech Republic.
●  " A Portrait" (documentary) by Carlotta Beck Peccoz. London, UK.
●  " Moving Forward " (satirical comedy) by Ben Slotover. London, UK.
●  " OK Commuter" (hand-drawn animation) by Ben Walden. Hove, UK.
●  " Fly Home " (comedy-drama) by Joshua Kerr. Newcastle, UK.
●  " Daily Life " (stop-frame animation) by Eugen Stemmle. Aumhüle, Germany.
●  " Total Control" (comedy) by David Ross. Fort St John, Canada.
●  " Oasis" (drama) by Kyle Camerer and Greg Hatton. Santa Monica, USA. (Filmed on location in Hawaii)                                                                                                                                                                                                               The straight8 2020 jury included KatieMetcalfe, ShortsProgrammer, SundanceFilm Festival and Video Commissioner, NOWNESS; Joanna Duncombe, Film Programme Manager, British Council; Award-winning film editor J ustine Wright (Last King of Scotland, Locke, Yardie); Academy-Award nominated Director of Photography Robbie Ryan (American Honey, The Favourite, Marriage Story); and BAFTA, Grammy and Academy-Award winning Director Asif Kapadia (Senna, Amy, Diego Maradona) .straight 8 Founder, Ed Sayers comments "Making a short film in the straight 8 way is an incredible challenge for filmmakers. Being allowed one roll of Super 8mm film, with only in-camera editing, and no post-production, means that directors need to be smart: to plan amazingly well and then adapt on the spot when things inevitably change. This year's selection is superb and because of everything going on in the world, we've also adapted and we now have the joy of sharing the films to the whole world at once."

Cinelab London Managing Director, Adrian Bull comments "Last year was the busiest year ever for Cinelab, processing enough film to reach from London to Rome! Whilst Wonder Woman 1984 and the latest Bond – No Time To Die – are in the can awaiting release, nothing will stop straight 8 2020 – another mile and a half of new films – from being shown. It's always exciting to see the top selected films at the Cannes Film Festival, but with lockdown this year the premiere will be more inclusive, with a bigger audience than ever getting a chance to see the premiere of these films online, at home, for free."

Asif Kapadia,director of DiegoMaradona, Amyand Senna ,comments: "I started shooting on super 8 and 16mm. What I love about straight 8 is it reminds you that film is precious; every frame, every second is valuable. Shooting without a screen, no sound, no playback, no way to delete mistakes, encourages you to think before you shoot and to trust your gut instincts. This is how the masters like Hitchcock and Scorsese started. That's what I love about straight 8, it's the magic of Cinema, in its purest form. "

Robbie Ryan, director of photography of American Honey, The Favourite, Marriage Story, commented after the 2019 Cannes Film Festival Premiere: "Very creative, very funny, very enjoyable films… it was a pleasure to judge. I really got a good sense of emotion and feeling – and that's what cinema is all about."
Additional Information
As well as streaming the winning 8 films, the best 25 films of the 2020 competition will premiere two days later, on June 26th, at 8pm UK time. This screening will include a second showing of the best 8, taking their place within the annual best-of collection, with 17 more great, unseen, straight 8 films.
straight 8's other competition, ' s hootout' , is for creative companies to compete at straight 8 rules for charity. In contrast to the straight 8 2020 films, the films for the latest edition of shootout were made during Covid-19, under strict lockdown conditions, making it even more challenging. While they normally would have screened in Cannes in June during the Lions Festival of Creativity, they will now also be revealed live online, on June 25th, 2pm UK time.
Key dates:
June 24 – 8pm UK time – straight 8 2020 – the best 8
June 25 – 2pm UK time – straight 8 shootout – the isolation edition June 26 – 8pm UK time – straight 8 2020 – the best 25
All three free events will be streamed at www.straight8.net