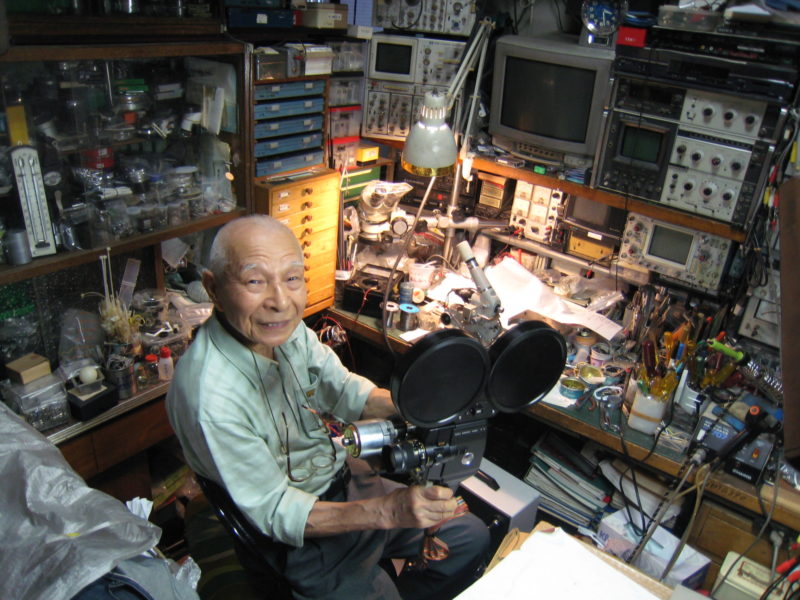 Photos: Tak Kohyama
The camera resembles a Fujica Single 8 ZXM 300 with Mickey Mouse ears. Nevertheless, it is a real Sony. It is the only remaining sound-equipped small format cine camera intended to capture television or video images from a monitor. It will work without sound, too. There were only three of these devices made with 90 meter capacity. And the last existing unit is now in the hands of Tak Kohyama. It has been used by his company, retro8, to capture film from video.
 Yoshio Ozaki – formerly a gifted research and development scientist at Sony – kept the somewhat unconventional looking camera at home for a long time. It's one of his darlings. The Sony FR-P5 Kinescope Recorder associated with the camera once stood in the Sony PCL labs in Tokyo and Osaka. A third unit was built, in case a substitute was ever needed. Today this unit – previously considered to be the "spare parts donator" – is the only one remaining, and it will be put back to work. Tak Kohyama at retro8 in Japan wants to use it to satisfy a growing need, "There are more and more cameramen who do not dare to shoot on film anymore, because they are unfamiliar with the system and the equipment. However, they desire a film look for certain documentaries and music videos." They've got it backwards…
The cameras entered service at the Sony PCL labs in 1977 to copy school telecasts and continuing education programs. Many schools still didn't have video recorders, so it was reasonable to capture the broadcasts with sound on Single 8. The national Japanese television network NHK had a second channel with school and continuing education broadcasts alongside its main programming. It was not always possible for the desired audience to be in front of the television when the programs were broadcast, so film copies were a good solution. "They could have shot the telecasts on 16mm as well," says Kohyama, "But that would have been far more expensive." The so-called Kinesco scanning system synchronizes with the monitor signal. The film is exposed at 18 frames per second, and the TV image uses the Japanese NTSC standard at 30 fps. A jitter-free image is produced by precisely synchronizing the film recorder.
Sony used a converted Fujica Single 8 ZXM 300 Sound as the camera. The lens and shutter were replaced. Exposure and sound were adjusted exclusively by hand, and the connected controller monitored the signals. A photo sensor was installed inside the camera to count the perforation holes. This enabled the speed to be held at precisely 18 fps. "We even have 120 m of frozen film stock with soundtrack, just as it was once used with this camera," Kohyama cheerfully remarks.