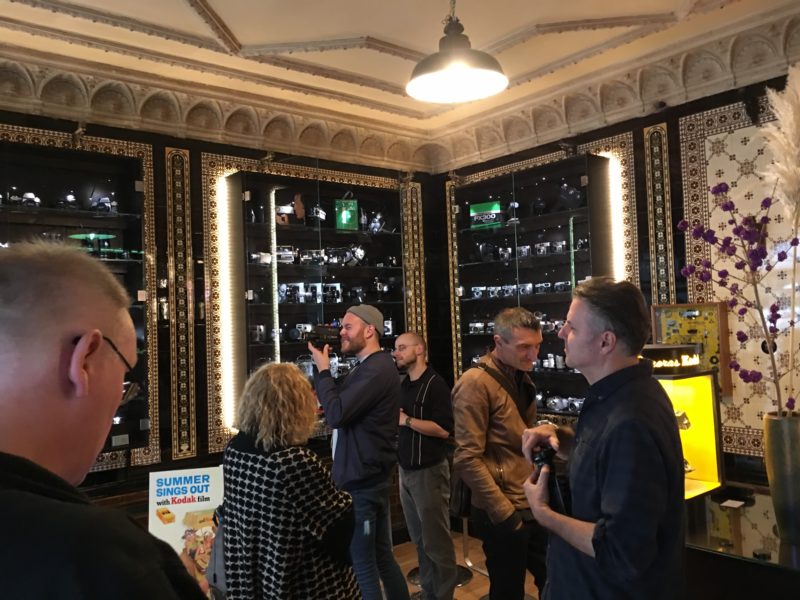 A Butcher Shop Full of Choice Cuts
Photography and filmmaking – on real film. Images woven like a tapestry of film grain. Photographs and film that you can develop yourself and edit by hand.
Cameras – precise as clockwork. Beautiful to admire, with high quality workmanship. There is nothing better than precision mechanics; analogue masterpieces that still perform their duty today.
click & surr wants to keep analogue photography and filmmaking alive. That is why they have dedicated themselves to the sale of first-class cameras. They also want to offer high quality film stock as well as accessories at reasonable prices. To preserve the fun of the medium. click & surr is a new shop in the very heart of Berlin: Mitte, Gartenstrasse 4.
Small format, medium format, Super 8, Single-8, Double 8, 16 mm – these are the formats that matter to them. They have scoured the world, hunting for everybodys next treasure. Elegant cameras in first-class condition. click & surr purchases such equipment and inspect it in their workshop. Worn parts are replaced, housings cleaned and faults corrected. If somebody purchases a mechanical still or movie camera, he can be assured that their expert service staff have thoroughly tested the chosen device. They also give a one year warranty.
In addition to cameras intended for active photography or filmmaking, they offer selected collector's pieces. Here, too, they strive to provide their customers with functional masterpieces. In individual cases, there may be functional limitations which are noted in the description on the website. However, collector's pieces are expressly offered without an operational guarantee.
Experience a variety of analogue cameras, lenses and projectors, displayed in a former butcher shop from 1880. Browse their range of film and accessories. Ask for advice and immerse yourself in the ambience of advertisements from decades past. Customers will find an overview of their offerings in this online shop: www.super8shop.de